2023 Conference Speaker Information
Raymond Lopez, USPS District Sales Manager, San Diego
Ray began his Postal career as a letter carrier in the Santa Ana District in March 1999. In July 2007, he was selected as an Account Manager for the San Diego District. Soon after, he was promoted to the Mailing Solutions Specialist in San Diego and the Franchise Major Accounts team. In 2013, Ray was selected as the District Sales Manager for San Diego where he has demonstrated the ability to lead and guide teams in pursuit of market growth and commercial revenue.
In April 2016, Ray was detailed as the Area Sales Director for the Pacific Area and later that same year was detailed as Area Sales Director for Cap Metro. In 2020, Ray was detailed into a Customer Account Management - Special Projects role, as well as, working on the COVID-19 National Sales Response Team. Most recently, Ray was detailed as the Area Sales Director for the Western Area.
Ray is a graduate of the 2020 Advanced Leadership Program and 2017 Managerial Leadership Program. In addition, Ray holds an MBA in Business Administration and is certified in Project Management.
Session 2 | USPS Special Services: Security and Accountability at Your Service  |  Tuesday, September 26, 10:00 to 11:00 am
In this session, learn how the USPS is redefining mail service and security and walk away with an understanding of the key benefits the USPS Special Services products provide, how USPS is strengthening the connection between businesses and their customers, and ensuring accountability and service.
Product Overviews
Premium Forwarding Service Commercial
Business Reply Mail & Qualified Business Reply Mail (IMbA)
Registered Mail
Certified Mail
Insurance
Certificate of Mailing
Certificate of Bulk Mailing
Collect on Delivery
Hold Mail
PO Boxes
HAZMAT
Conclusion: Tools & Resources
Q&A
---
Session 3 | Future of Mail: When Paper and Pixels Converge it's Irresistible  |  Tuesday, September 26, 2:30 to 3:30 pm
This session on the future of mail will provide an overview of the current state of the mailing industry and the power of direct mail in a digital world. Explore how mailers are embracing technological advancements by integrating augmented reality, near-field communication, QR codes, and more to enhance the effectiveness of mail campaigns. Discover the potential of retargeted mailings and their impact on achieving better results. Gain valuable insights into Informed Delivery and its benefits for both mailers and recipients.
State of Industry
Technology Integrated with Mail Deep Dives

NFC
Mixed Reality
AR
VDP
QR Codes

Retargeted Mail
Informed Delivery

Overview
Innovations and Statistics

Q&A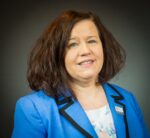 Margaret Pepe, Executive Director Product Management, Washington, DC        
Margaret was named Executive Director Product Management, in March 2021. She is a direct report to the Vice President of Product Solutions in the Chief Customer and Marketing Officer organization at USPS headquarters.
In this role, she is responsible for key corporate strategies and initiatives for products offered across the enterprise along with the development of new strategies, products and programs to strengthen our competitive position, meet customer needs and increase revenue.
Margaret directs the strategic planning, product and program management of three departments within the Product Management Group; Mailing Services, Special Services and Product Solutions which accounts for $42B in annual revenue.
Margaret's team is focused on strengthening the value of mail, enabling innovation to adapt to the changing marketplace needs. Developing and offering new programs, resources, and solutions designed to increase mail usage from businesses of all sizes.  Mail promotions and incentives tap new technologies to effectively integrate mail and marketing campaigns. Educating the next generations of marketers on the value of mail and omni-channel campaigns through outreach and collaboration with colleges and educational organizations. Working cross functionally to enhance and simplify products and services while providing secure, efficient, reliable and cost-effective service to meet the demands of a dynamic business environment and drive overall customer satisfaction.
Managed product lines include First Class Mail, USPS Marketing Mail, Periodicals. along with over 40 special services, 6 Promotions and several market tests.
Margaret has extensive experience in marketing and customer service.  She has held leadership positions at the district, area, and national level that include: Manager, Stamp Products and Exhibitions; Manager, Customer Outreach; Manager, Retail and Post Office Operations; Manager, District Business Service Network; and most recently, Area Marketing Manager.  Margaret has worked collaboratively throughout her career with internal and external stakeholders.  She has served as program manager for the National Postal Forum and the Postal Customer Council, and she has participated on the Postmaster General's Mailers Technical Advisory Committee.
In 1993, Margaret joined the Postal Service as a Distribution Window Clerk at the Ravena NY Post Office.  She is a graduate of the USPS Executive Foundations and Advanced Leadership (ALP) programs, and she is a certified Lean Six Sigma Green Belt.
Keynote Speaker  |  Lunch  |  Tuesday, September 26, 12:00 to 1:30 pm
Margaret will be speaking on our conference theme, Mail Services Reimagined.  Yesterday. Today. Tomorrow., along with other hot topics in the mailing industry.
Jorge Espinoza, EMCM, Outbound Shipping Coordinator for UC San Diego.
Jorge has worked 40 years in the Mailing Industry, the last 26 with UC San Diego.  Currently a Hazmat Certified Shipper, he processes all outbound mail for UC San Diego.  He has been a previous speaker at ARMCUMS and holds the EMCM certification from the US Postal Service.  He has twice been on the local PCC Board as the Vice Chair and Co-Chair in San Diego.  Jorge started his career with Union Bank and HomeFed Bank in the mail operations department.  He then moved on to higher education with San Diego State Univ. and finally with UC San Diego.  Some of his roles have included Inbound Mail, Outbound Mail, Bulk Mail processing, Multi-carrier shipping, Address Management and Dangerous Goods shipping.
Session 4  |  Hazmat and Regulated Items that come through your Mail Center - Are you ready?  | Wednesday, September 27, 8:30 to 9:30 am
Is your Mail Center Handling Hazmat or Regulated Shipments?
This session will cover various topics related to the safety and regulations required to mail or ship items deemed Hazmat or Regulated.  How to recognize and identify potential dangerous goods.  When found in the Mail Center how should they be handled and given to the proper personnel for handling.  How to get training and certification for handling dangerous goods.
Devin McCabe, Account Executive of Worldwide Express, Salt Lake City, Utah.
As an Account Executive of Worldwide Express, we are a full-service freight management company and the largest privately held 3PL in the country. We are also UPS' partner of 16 years. I have the privilege of working with companies, and other entities, to provide them with exclusive shipping rates and valuable resources, for all their shipping needs, including UPS small parcel, palletized LTL freight with 65+ best-in-class freight carriers, full truckload with over 85,000 carrier partners, as well as international ocean and air freight. My goal is to provide immense value, bring operational and process efficiencies, and help my clients be more profitable with the distribution of their goods and products, domestically, and around the world.
In my non-work life, I am a husband, and father of 4, soon to be 5 beautiful children. We have a mini-farm with a mini-jersey milk cow, 2 goats, and 6 chickens. We love to do DIY projects on our home, and love to travel! Anywhere by the ocean is where I feel most at home.
---
Eugene Weilbach, Area Sales Manager – Salt Lake City, Utah
I have been with Worldwide Express for 5 years, with a primary focus on Leadership and Market Growth. Although I did not come with a Sales background when I first started, I've had the privilege of working in the dairy industry as well as serving my country in the ranks of the United States Marine Corps. I attribute most of my gained insights and core values to those experiences.
Hailing from a lineage of dedicated dairy farmers I was born in the countryside of South Africa, where I spent most of my school-age years. My family moved to the U.S. in the 90's, where I continued my education. I enlisted in the Marine Corps in 2011, as a 0331 Machine Gunner. Following an impactful 4-year tenure in the Marine Corps, I transitioned to completing my bachelor's degree in business management. I drew back to my familial roots with my father and brother to steward a dairy farm during that time. This venture, however, faced economic headwinds, prompting my departure.
In 2018, I embraced a dynamic role with Worldwide Express. I started as an Account Executive and worked my way up the ranks, to my current position today as Salt Lake City, UT's Area Sales Manager. My hope is to lead and facilitate the same excellence, teamwork, and continuous growth that I have experienced over the last 12 years.
Session 5  |  Worldwide Express / UPS  | Wednesday, September 27, 10:30 to 11:30 am
In this session we'll be discussing the UPS rate structures we'll be able to offer to the UPS approved colleges/universities. We will also be discussing our other areas of expertise - LTL (less-than-truckload palletized/crated freight) as well as FTL (full-truckload) freight.
Kristen Weidler, Assistant Director for UC San Diego Logistics, San Diego, CA.
Kristen is the Assistant Director for UC San Diego Logistics over Mail Services and has a strong educational and professional foundation in supply chain logistics, business & financial analytics, project management, and leadership. Through her 8 years with the university she has been responsible for a variety of other logistics roles, including client services administrator, financial analyst, business development analyst, project manager, and STORE program manager.
Session 6  |  Preparing for the Future of Student Mail  | Wednesday, September 27, 1:30 to 2:30 pm
In this session, learn how the Student Mail team at UC San Diego is preparing for the future of package and mail distribution for students. With new communities being launched each year adding 2,000 beds per location, a robust Student Mail operation is more critical than ever. Strategies on staffing, budget, operational, and partnership efficiencies and maximization will be shared during this session.
Robbie Jacob, Director of Logistics at the University of San Diego, San Diego, CA
Robbie Jacob is the Director of Logistics at the University of California, San Diego, and is responsible for the Receiving and Distribution, Outbound Shipping, Moving Services, Surplus Sales, Gas Cylinders, Messenger, and Self-Storage operations. He joined UC San Diego in 2014 and brought with him 16 years of direct experience in managing warehouse/logistics operations.
Session 7  |  The Future of University Logistics  |  Wednesday, September 27, 2:30 to 3:30 pm
UC San Diego is expecting package volume to increase 3-fold within the next 5 years, all while maintaining letter mail volume for the university. Learn about how UC San Diego is transforming their Logistics operation to accommodate this increase in volume through integration and advanced technology in a sustainable manner.
Co-Speaker:  Kristen Weidler
Peggy Smith, BS, EMCM, CMM, Speaker Extraordinaire
Peggy Retired May 2021 as Senior Manager of Mail and Receiving Services at Washington University in St. Louis where she consolidated and enhanced the university mailing operations including significant cost saving measures.  Her university career of 34 years included administrative and managerial experience in areas of Olin School of Business and faculty services, metering and billing hundreds of cost centers, in-bound and outbound mail & packages, shipping and receiving logistics, three student mail centers with parcel lockers, and two USPS contract stations.  After years of planning, also merged the University School of Medicine Mail and Receiving services in with the main campus operations consisting of 35 staff members and dozens of student employees with several facility centers.
Joined Brynka Solutions Team in July 2021 as a part-time consultant and industry speaker.
Earned a Bachelor of Science degree in Industrial and Organizational Psychology from Washington University while working full time along with dozens of additional classes and professional development including the following certifications:
Lifetime level achievement as Certified Mail Manager (CMM) from the In-Plant Printing and Mailing Association
Executive Mail Center Manager (EMCM) and Mailpiece Design Professional (MPD) from the USPS
A member of NACUMS Board for over 25 years serving in various capacities as well earning the Lou Eichler Award of Excellence and the Industry Leadership Award.
Over 30 years on the Greater St. Louis Postal Customer Council Board including Industry Co-Chair for several years.  Peggy earned the following achievements as well as being a frequent speaker at National Postal Forums and industry associations, earning the following awards.
USPS Best in Class Industry Star Award
USPS Mail Center Manager Award
National PCC Industry Member of the Year
Greater St. Louis PCC Member of the Year
Session 10  |  Benchmarking for Success and Process Improvements  |  Friday, September 29, 10:00 to 11:00 am
Benchmarking is the competitive edge that allows your operation to adapt, grow, and thrive through change.  Learn how to measure key metrics and practices by comparing them with industry peers.  Specific examples will be provided and shared.  We will address various types of benchmarking as well.